CLICK HERE TO READ AN ARTICLE ABOUT OUR CLUB!
Pots 'o' Gold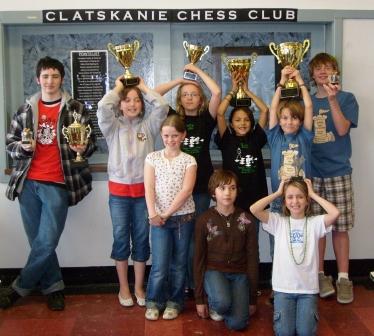 High School Division:
2nd place - Jeffrey Clappe
Order of the Knight - Jeffrey Clappe

Jeffrey was in a section of players, many of whom, were double his playing strength in rating. At first, Jeffrey was a little dismayed at his chances of going home with a trophy... so we came up with a plan... he would throw everything he had at them and come out fighting from the very first move. Whatever he could do to mess up their opening and any plans they had, that was his plan! He lost several rounds, but enjoyed them immensely. When I asked him if he won, he said, "No! But I completely messed up their opening, caused a lot of destruction and didn't go down without a fight!" Well, since our motto is "Never Give Up, Never Surrender" (something Winston Churchill used to say), I was very proud of Jeffrey. He ended up coming home with the second place trophy. Not bad, when you're the underdog!

Middle School Division
Order of the Knight - Warren Skirvin
The order of the knight was given to only 12 players out of over 200. These students showed honor, integrity, perseverance and good sportsmanship in every game they played. I'm very proud that two of them went to Clatskanie students. Warren and Jeffrey were honored with this award because of their perseverance, sportsmanship and good attitude.

Elementary Division
2nd place tie - Allen Skirvin (on tie breaks Allen received the 3rd place trophy)
10th place - Bethany Mullins
U800 Honorable Mention - Jessica Mullins

Allen won every game, until the final round. He was matched up with a tough, older competitor and was winning for most of the game. The pressure was intense. If he won, he'd win first place. If he lost, he would come in anywhere from 2nd to 6th place. If he drew the game he'd still have a chance for a win. Allen fought valiantly all the way through and even though the position would have been considered a draw at times he decided to go for the win. His second place finish was well earned and he played an awesome game!

Primary Division
4th place - Victoria Griffith
5th place tie - Sierra Bechdolt

This was Victoria and Sierra's third chess tournament! To come in at 4th and 5th place is an outstanding accomplishment for players who are so new to competitive chess. They did a great job!

Chess Set Design Contest
1st place - Connor Thorud - Craftsman Division
1st place - Allen Skirvin - Artisan Division

Warren Skirvin received a check for $100 as the winner of the T-shirt design contest. I asked Warren what it felt like to see almost everyone in attendance wearing a shirt that he designed... "Weird, but really cool!"

A local trophy shop, Northwest Engraving from Rainier, designed the beautiful cups at the championship. Liz Brown, owner, was in attendance. Just before the players started their games, I invited her up on the stage with me. I asked the crowd in attendance... "Are you here to have fun?" "Yes" they yelled! "Are you here to win?" "Yes", they yelled even louder! "Would you like to see what you're playing for?" 'YES!", they screamed! As the curtains parted to reveal the gorgeous, golden cups a hush fell over the crowd and a collective ooooohhhh could be heard. The championship was filled with wonderful moments like this.

All players represented Clatskanie well and we received many compliments from other schools about the quality of their play. I'd like to thank all of the people who help sponsor our club with financial, and other, contributions. None of this would be possible, without your support!

At breakfast, the morning after the championship, a group of Clatskanie families were sitting together when a parent from Pleasant Hill leaned over and whispered in my ear "Kate, you have one of the biggest extended families I've ever seen!" He was so right! Throughout the tournament Clatskanie came to the rescue on many occasions with willing volunteers and parents looking out for kids. I was constantly asked... "How can I help?" There's no doubt that we are a family. And that's what makes our club a special place to be.


Kate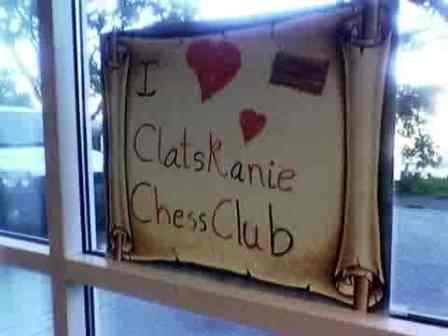 Championship Prep!